Judge approves historic settlement for black farmers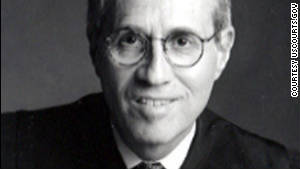 U.S. District judge Paul Friedman has ruled in the case of African-American farmers.
Washington (CNN) -- Tens of thousands of American farmers who suffered racial discrimination by the U.S. Agriculture Department in the 1980s and '90s may start getting compensation from a $1.25 billion settlement, a federal judge has ruled.
"I'm very pleased that this has resolved itself," U.S. District judge Paul Friedman said Friday. "It will provide relief to an awful lot of people."
In an opinion filed in the case, Friedman deemed fair a proposed settlement that provides a system of compensation for black farmers who joined a class-action lawsuit claiming that they can prove racial bias in decisions related to Agriculture Department programs and support.
"Historical discrimination cannot be undone," Friedman wrote, citing a basis to establish payments "for the broken promise to those African-American farmers and their descendants."
As many as 68,000 African-American farmers who filed between 1999 and 2008 would apply for one of two forms of relief: "Track A" for a qualified claimant would lead to an uncontested payout of $50,000 after taxes, and "Track B" could yield up to $250,000 for damages that are substantiated by documents and other evidence.
"So many farmers had given up hope that this would ever come to pass," said John Boyd, the head of the National Black Farmers Association.
Lawyers for the U.S. Justice Department and the plaintiffs stood before Friedman at a fairness hearing in September and said they were in agreement on the terms and conditions of the payout. The judge also heard from farmers who were against the proposal, including those who said they wanted to opt out and seek a higher level of damages than proposed.
But Friedman said Congress, in legislation that funded the proposed settlement, gave him very little latitude to step around the conditions lawmakers had specified, or else the funding could be withdrawn.
Instead, farmers and their attorneys will advance their claims before a review panel consisting of retired judges and other neutral parties with expertise in the matter during prolonged litigation.
Friday, Boyd said that "It's gonna take about a year to run all the farmers through the system, each case will have to be looked at in a forum that's also looked at by the court. Once the cases are checked, then the farmers start to get their money."
President Obama said in a statement that the settlement "is another important step forward in addressing an unfortunate chapter in USDA's civil rights history. This agreement will provide overdue relief and justice to African-American farmers and bring us closer to the ideals of freedom and equality that this country was founded on."
The implementation of the settlement to redress racial bias against black farmers comes during the term of the nation's first African-American president, a point not lost during Friday's White House briefing with reporters.
White House spokesman Jay Carney said, "it's an important accomplishment for everyone involved, not least, I mean, not just obviously this president, but a lot of people who were involved of both parties over the years in making this come to a conclusion in a way that is supported by a bipartisan majority."
The judge in the case also noted cooperation among congressional lawmakers, who put aside political differences when the settlement funding was added to a farm bill, and earlier, when lawmakers allowed more aggrieved black farmers to join the case by amending the statute of limitations.
At the courthouse Friday, Friedman recalled details of presiding over the Pigford v. Glickman case in the 1990s, named after Tim Pigford, a black farmer who claimed racial bias in applications for USDA programs and financing.
"The farmers didn't think anything would come of it. They had been disappointed over the years by the government," Friedman said, "yet 16,000 of them collected something like $1.1 billion in that case."
Word spread that the government was willing to pay reparations, but other farmers who had valid claims of bias had missed the deadline to file. Friedman said Congress and the president then extended the statute of limitations "to get these disappointed people back in the case."
Boyd said the problem now is making sure farmers who became "late filers" are now aware the settlement is ready to go.
"Some of these guys were in their 60s and maybe by now have passed away," Boyd said. "Their family needs to know that if Daddy filed, they can still pursue his claim."
Attorney General Eric Holder said Friday that the settlement helps "African-American farmers to focus on the future and brings us one step closer to giving these farmers a chance to have their claims heard."
Agriculture Secretary Tom Vilsack, who in recent years easily acknowledged a history of racial bias among federal and local staff members in managing farm programs, said Friday that he is "thrilled by the court's approval so we can continue turning the page on this sad chapter in USDA history."
Friedman, reflecting on having spent more than 10 years on the case, said a documented history of African-American farming is a side benefit from all the research that has gone into "Pigford I" and "Pigford II," as the follow-up case became known.
Many African-American farmers were boosted "during the WPA in the 1930s, the Works Project Administration," Friedman said, when government officials were "thinking about jobs for people."
There was a detailed account of farming "from the Civil War to the present" he said, but then efforts for such a historical record stopped.
With the two Pigford cases come details on the farming lives of tens of thousands of African-Americans that Friedman said will stand as "a case history of the claimants parents and grandparents." He said historians and lawyers will figure out how to make that record public while respecting privacy concerns.